Strickland Uplifts Olympia Small Business Leader as Virtual Guest to President Biden's Joint Session Address 
Olympia, Washington – Congresswoman Marilyn Strickland (WA-10) made the following statement ahead of President Biden's address to the first Joint Session of Congress, 100 days into his Administration. Strickland will be joined by Olympia small business leader, David Wasson, as her virtual guest to the Joint Session. Mr. Wasson owns a coffee shop in downtown Olympia, Washington and was able to keep the majority - over 80% - of his employees on payroll during the pandemic and is working to bring back more of his staff thanks to small business relief provided by the American Rescue Plan via the Paycheck Protection Program.
"I'm very proud that David from Lacey, Washington will represent our community tonight as my virtual guest to the Presidential Address. Americans like David are the true heroes of this recovery, and his story is a great example of how we are working hard to protect jobs and deliver relief in the South Sound," said Congresswoman Marilyn Strickland. "100 Days into our work with this Administration, we have made progress by listening to Americans' needs and delivering urgently needed relief to get our nation back on track. As funding for the American Rescue Plan gets shots in arms, money in pockets, children in schools and people in jobs, President Biden will continue to build on this progress and restore trust in government. The cost of inaction remains too high, now is the time to make a once in a generation investment to build back better, including supporting jobs, families, and children in the South Sound and across our nation."
"Within the first 100 days of the current administration, I saw vast improvements in the quality of life and livelihood of my employees and my company. With the PPP funding approved by the current administration, I've been able to keep more people employed throughout the pandemic, keep our retail businesses open and functioning to serve their respective communities, and provide my staff with government-funded safety measures to ensure their health and wellbeing. With vaccines becoming more readily-available, about 95% of our employees have been vaccinated, allowing us to start bringing more people back to work in our offices and provide a safer environment for our front-line workers. We are optimistic that we will soon reach our pre-COVID numbers or, possibly, even surpass them. On a personal note, both my spouse and I have been able to get vaccinated, allowing us more flexibility to resume our daily lives. As a member of the small business community, I am grateful to Congresswoman Strickland and this administration for making sure my company and staff feel like our voices are being heard and our concerns addressed," said Mr. David Wasson, who plans to watch the speech from his home in Lacey, Washington.
Image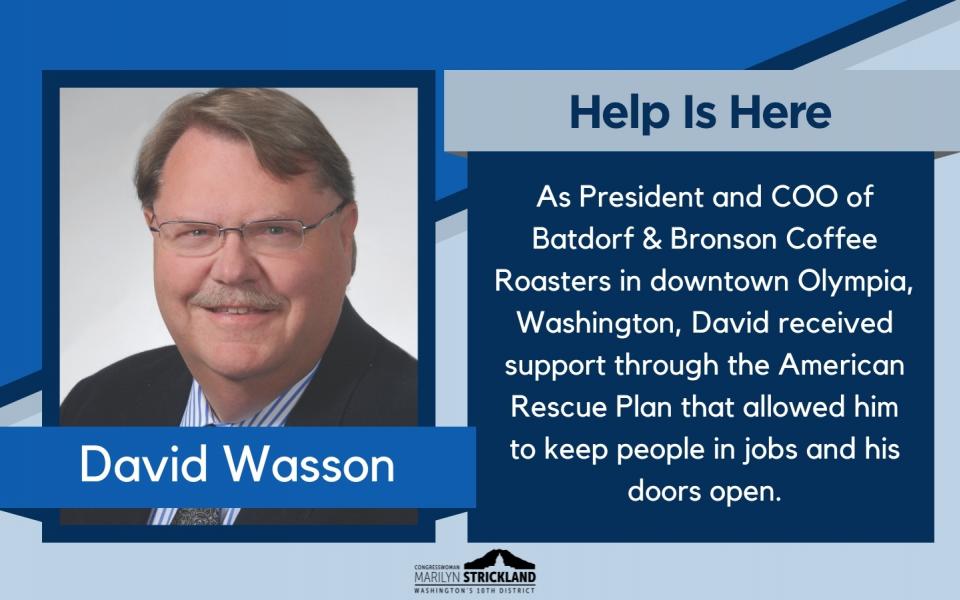 The Joint Address, which is President Biden's first speech to a Joint Session of Congress, marks 100 days into the President's first term. In the past, Members of Congress have often invited constituents to join them as guests to such speeches. While COVID-19 safety protocols mean this year's in-person attendance will be limited, Congresswoman Strickland said inviting Wasson as her virtual guest is an important way to honor the people of Washington's 10th Congressional District.
100 Days into Congress's work with President Biden, the American Rescue Plan is delivering shots in arms, money in pockets, children in schools and people in jobs - including over $333 million in pandemic relief for the South Sound.
SHOTS IN ARMS
The United States has administered more than 215 million vaccine doses and counting. More than 85 million Ame

ricans are fully vaccinated.

Half of the adults in the U.S. have received at least one dose.

 

The American Rescue Plan also recently sent $6 billion to local Community Health Centers to help them distribute vaccines. Washington state received $213,959,125 to support 27 health centers.
MONEY IN POCKETS
CHILDREN IN SCHOOLS
The American Rescue Plan invested $130 billion to help schools reopen safely, stay open safely and make up for lost learning time.

The American Rescue Plan also recently sent $39 billion to states to help keep childcare providers on the job and lower costs for working families. Washington state received $632,671,834 in direct funding.
PEOPLE IN JOBS
The economy created nearly 1 million jobs in March. In fact, "Job growth boomed in March at the fastest pace since last summer, as stronger economic growth and an aggressive vaccination effort contributed to a surge in hospitality and construction jobs," according to

CNBC

. 
Congresswoman Marilyn Strickland serves as a Member of the House Armed Services Committee and the House Transportation and Infrastructure Committee. She is one of the first Korean-American women elected to Congress and the first African-American to represent the Pacific Northwest at the federal level.
###
To unsubscribe from press releases, click here.