Join Me for a Telephone Town Hall with AARP Washington
Image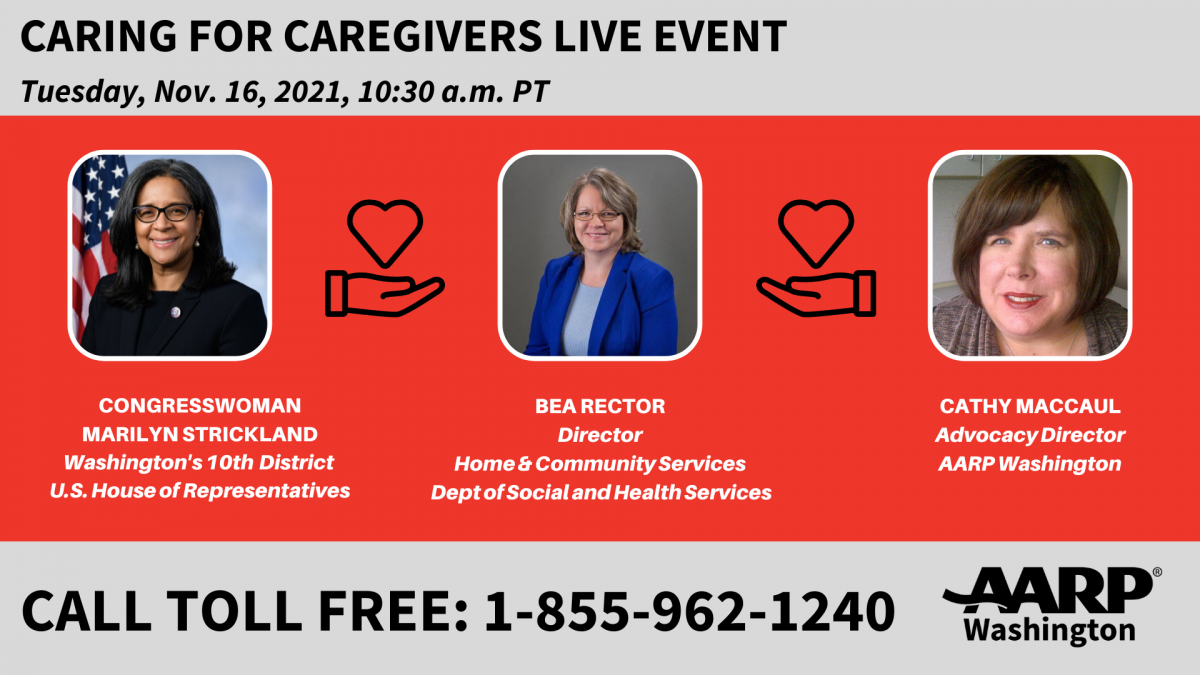 Dear Neighbor,
As we recover from the challenges of the pandemic, I know that South Sound families continue to face obstacles in making sure family members and loved ones are cared for.

In honor of National Caregiving Month, I'll be holding a live Tele-Town Hall on Tuesday, November 16 at 10:30 A.M. PT with AARP Washington.  We will get to hear directly from you, and discuss how we can better support caregivers and families. Don't forget to submit your question by emailing aarpwa@aarp.org! 

To attend, pre-register HERE to receive a phone call at the start of the event. If you prefer not to pre-register, call 855-962-1240 toll-free on the day and time of the event. I hope to see you there.
WHO:

 

 

 

Congresswoman Marilyn Strickland

Cathy MacCaul, Advocacy Director at AARP Washington 

Bea Rector, Director of the Washington State Department of Social and Health Services

WHAT:

Caring for Caregivers Telephone Town Hall

WHERE:

PRE-REGISTER HERE or dial in to 855-962-1240 toll-free on the day and time of the event

WHEN:

Tuesday, November 16th at 10:30 AM PT
As a caregiver, I know firsthand that a crucial part of building back better is supporting an economy that works for all of us - especially our care workers and all those who take on caregiving responsibilities. That's why I fought hard to include policies like the Child Tax Credit in the American Rescue Plan. As Congress advances the Build Back Better Act, we must do more to meet the needs of caregivers and families. You can read more about how and why I believe Congress should prioritize caregivers in my Seattle Times Op-Ed.
As always, I work for you. If you need assistance, you can call my Lacey office at (360) 459-8514 or my D.C. Office at (202) 225-9740. For more updates, make sure to sign up for my newsletter and follow me on social media.

Sincerely,
Marilyn Strickland
Member of Congress